Get your kids motivated and pumped for healthy eating!
Yes! It's possible! Your children can enjoy a healthy lifestyle too!
Sometimes we have a tough time trying to get our little ones to eat all the healthy things we know would make such a massive impact on their lives! But it's easier said than done!
But you can hack your way into your children's lives and food choices without feeling overwhelming or forceful. The truth is that it can be difficult monitoring your children's food intake. Especially when they are not home. So how do we make sure that they are getting all the nutrients they need?
There are tons of ways you can encourage healthy eating in and outside of the home. Children can learn from you not just to eat healthy but also consciously making the decision to do so. Wouldn't that be amazing?
In this workshop not only do I teach how to encourage healthy eating in innovative and inclusive ways, but I also teach you how to keep your children active and how to maintain a positive image.
GET READY TO GIVE YOUR CHILDREN A TOOL THAT WILL HELP THEM FOR A LIFETIME!
Ready to prep these goodies up?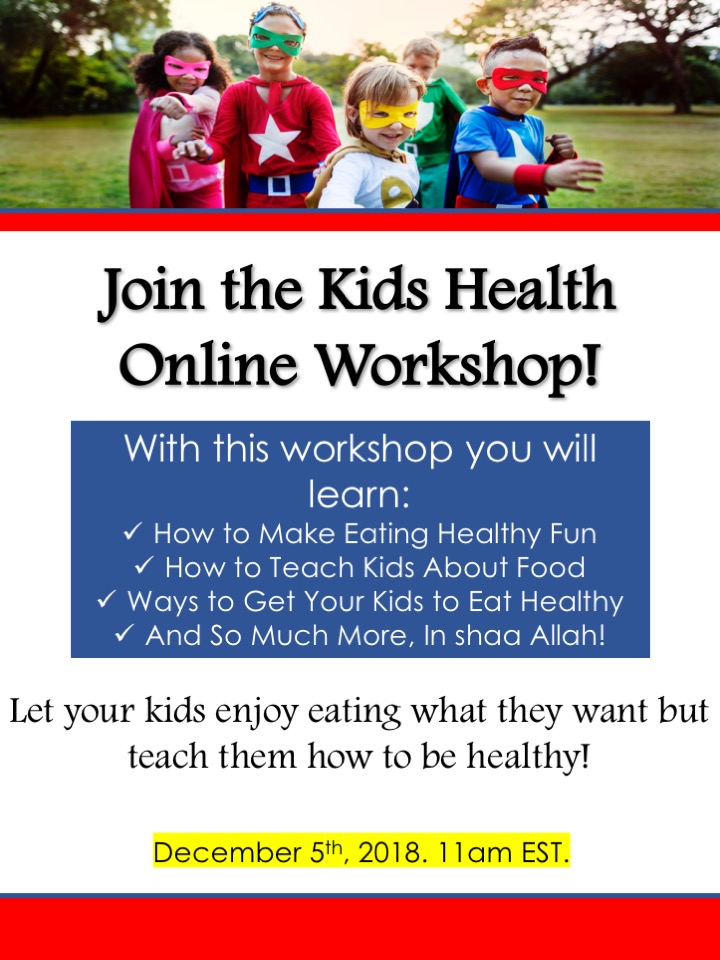 Dear sister , you are doing an amazing job at raising these kids. But sometimes it can be difficult to have them eat their greens, stay active and maintain a high self-esteem. You are not alone. I have many clients like you and I want to help you give your children something that they will appreciate for the rest of their lives! in shaa Allah.
That's why I created The Kids Health Workshop. Some of us wished that our parents could have taught us how to eat right, or how to make healthy part of our lifestyle. Nowadays, it's so important to give our children that right to knowledge!
You will also get help on:
1)Real Life Examples on how to apply healthy eating in your children's lives.
2)How to Keep your kids active during TV Time.
Teach your kids about having a positive image.
This is a comprehensive, tell-all, easy to follow workshop on how to give kids a healthy a lifestyle!
KNOWLEDGE IS THE GREATEST TOOL IN YOUR CHILDREN'S ARSENAL.
THIS WORKSHOP WILL GIVE YOU ALL THE POWER TO MAKE THE RIGHT PLAN FOR YOU CHILD WITHOUT BEING OVERWHELMING.
Your children can be healthy and live a normal life!
They don't have to feel pressured into doing things your way.
You can have the peace of mind that they are out in this world making the right choices about what they consume.
They will have tools to help them be healthy at all stages of their lives! Even when you are not there!
JOIN MY KIDS HEALTH WORKSHOP
First 50 sisters to join the workshop will also receive Kids Healthy Meal Plan with delicious healthy recipes that your kids are going to love, In shaa Allah.
See you in there, In shaa Allah!
Your Instructor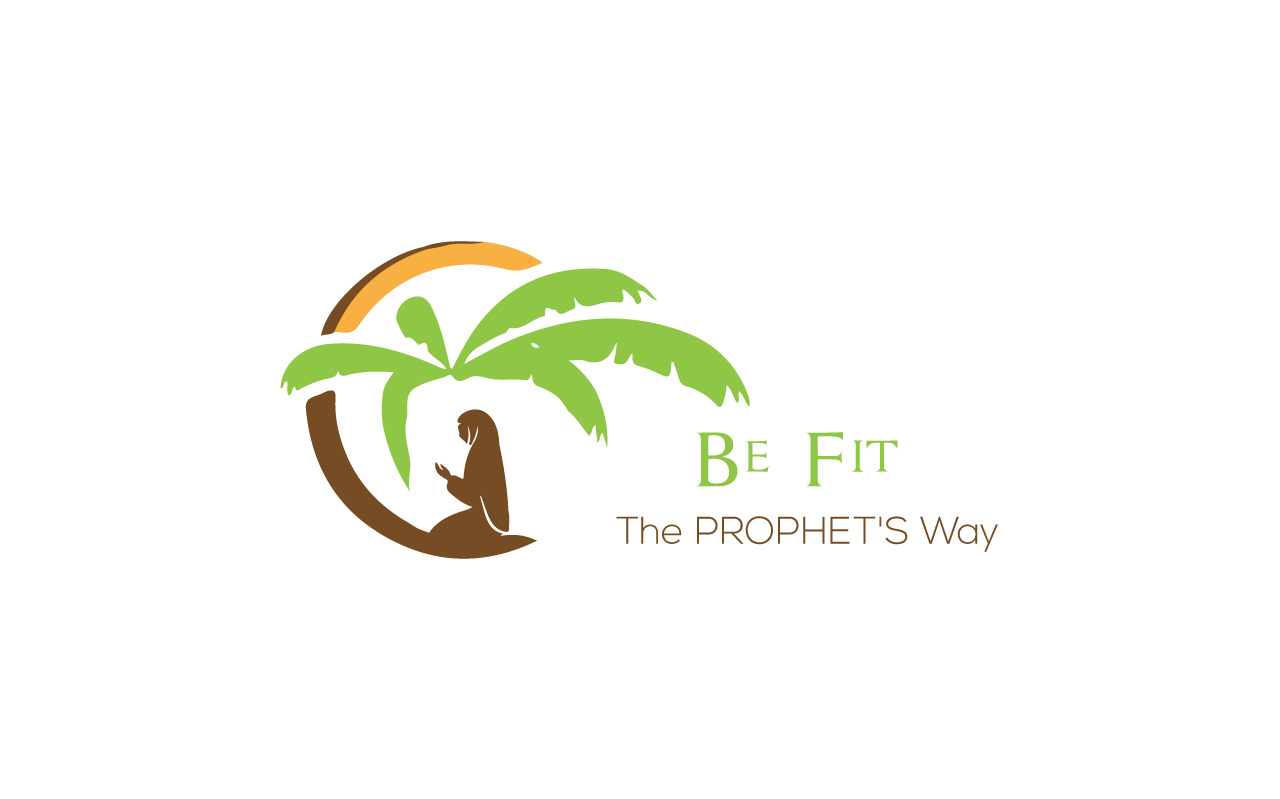 Nabillah Farooq is the Founder and Registered Health & Wellness Coach at Be Fit – The Prophet's Way.
She has a background and experience in Prophetic / Islamic medicine, allopathic medicine, fitness and holistic nutrition, and health coaching. She continues to study holistic & Islamic nutrition, fitness, and Hijama – based therapies to support and empower frustrated, stressed, and overwhelmed Muslims, in particular, sisters with hormonal imbalances like PCOS (Polycystic Ovarian Syndrome), Diabetes, Hypothyroid, etc to overcome their hormonal and weight issues through the language of food and Sunnah Remedies. She has co-authored " The Muslim Entrepreneur Mind Volume ll " She is also a homeschool parent, resides in Toronto, Canada with her lively four children.
Health is mentioned in Quran and the method is in Sunnah! Be Fit - The Prophets Way's programs provide sisters with relevant education, tools, tips, and personal support individually by Nabillah Farooq. She does this all by herself to ensure that the sisters learn it well in a simple and easy way and understand the techniques and tools required to keep sisters fit for life – The Prophet's Way
Nabillah's passion to help muslim sisters with PCOS began during her teen years. She went through her own tireless trail and errors of overcoming PCOS until she found the answer in Islamic medicine and Fiqh which was part of her curriculum during her medical school years. And as of now alhumdulillah, with will of Allah, she has helped numerous muslim sisters around the globe to overcome their gut and hormonal related weight issues naturally with Sunnah Remedies / Prophetic Nutrition and soothing duaas from Quran and Sunnah. This has allowed sisters to experience the joy of fit, sound, healthy body and motherhood which in the past their doctors had said, it can not happen.
She also runs her annual Ramadan Reboot Challenge, PCOS Muslimah Breakthrough Elite Program and The Saleem (Pure) Body And Soul Life Transformation Program For Muslimah.
Nabillah continues her mission to teach and support muslim sisters with their health issues in light of Quran and Sunnah and most important of all, to earn Allah's pleasure.